The world of marketing has evolved into a digital version of the survival of the quickest. To survive, ads should be designed to give users the quickest path to purchase. Mobile marketing does this by putting personalized content in the hands of users with direct links to products and services.
Targeting users on their phones is not a new marketing practice. However, engaging users on their mobile devices has become increasingly important over the past few years.
What does Mobile Marketing Mean?
The term "mobile marketing" refers to an array of digital marketing techniques designed to reach consumers on their mobile devices. Facebook and Instagram ads, e-mails, and personalized text messages are all examples of marketing to mobile users. The goal: to drive users from browsing to purchasing all within the screen of a smartphone.
How does Mobile Marketing Work?
Mobile marketing works by providing consumers with a mobile path to purchase. Businesses can utilize digital marketing to invite potential customers to purchase products and services directly from their devices using mobile apps.
Campaigns should optimize a consumer's mobile usage. For example, ads on Facebook and Instagram are effective because of the amount of time mobile users spend scrolling social media sites. A proper mobile marketing strategy should not interfere with the user's experience.
Google searches are another powerful technique. PPC, or pay-per-click, ads are effective because a search is often converted into a purchase.
55% of consumers using mobile to research, want to purchase within the hour. 83% want to purchase within a day." – Google Think Insights: Mobile Path to Purchase
What Problems does Mobile Marketing Solve?
Streamlines a potential customer's path to purchase.
Whether it's an e-mail, a text message, or a swipe up, mobile marketing gets users clicking links, looking at content, and making purchases.
Breaks through the physical limitations of brick and mortar stores.
In the year of "Staying Home Saves Lives," restricted capacities and stay-at-home orders were major obstacles business owners were forced to overcome. Mobile marketing allows businesses to reach potential customers anytime and anywhere.
Personalizes advertising efforts.
Instead of wasting marketing dollars on wide-net marketing techniques, mobile marketing can target consumers who have already indicated interest.
A marketing strategy that works for one business might not work for another. It's important to investigate different strategies and see what works best.
There are specific marketing strategies for those who:
Used a search engine to find a website
Joined an e-mailing list
Opted for updates via SMS/MMS messages
Followed a link shared on a social media platform
What are the Components of Mobile Marketing?
The successful execution of a mobile marketing campaign depends on several key components.
Responsive and Mobile-Friendly Websites
A mobile-friendly website (also referred to as a "responsive" website) is priority number one when it comes to mobile marketing. The only thing with a shorter attention span than a goldfish is a customer browsing on a mobile device. If a website doesn't work smoothly on a smartphone or tablet, a user will likely press the back button within seconds.
Be sure to give your potential customers the best user experience (UX) by making your content easy to view on any device.
Mobile-Friendly Marketing Technology
As E-commerce continues to boom, mobile-friendly technology has become vital to an effective marketing strategy. Fortunately, there are many types of mobile marketing technologies available.
The tried-and-true e-mail campaigns are still effective. E-mail ads can drive consumers from their inbox to a checkout screen in a few mere clicks.
SMS and MMS messages are another straightforward way to reach your audience. A short text message to inform customers of a current promotion with a direct link included is a useful marketing tactic.
QR codes are another form of mobile-friendly marketing tech. During this time of touch less and sanitize your hands more, QR codes have proven themselves to be essential. You may have noticed, a lot of menus are often in the form of a QR code. Patrons simply scan the code with their phone's camera then digitally peruse the menu. The same concept can be applied to just about any product or service.
PPC, or pay-per-click, is another way to reach consumers on their mobile devices. PPC is when businesses pay search engines per click to feature product ads when a user searches for a related item.
Sometimes a combined approach is the best marketing strategy for your business.
Make Your Ads Mobile-Friendly
Mobile apps are a golden opportunity to showcase your business' products and services, but they must be easy to use.
Mobile advertising requires a few adaptations to boost your advertising success rate:
Show them the goods.
Scrolling has become America's favorite pastime, and we are good at it. If you want to catch your customer's eye (and their money), you need to put your products front and center. Ads with pictures and videos will be more powerful than lines of text.
Utilize social media.
Social media has made the world a much smaller place, but it has made potential customer bases much larger. Featuring ads on social media can connect your business with people from all over the world.
Treat your potential customer how you want to be treated.
Don't annoy your customers with constant e-mail campaigns or daily SMS/MMS texts. Think like your customer and consider how they might perceive your ads.
Location based targeting.
If your business serves the local community, pay special attention to how you market your product or service. You may need to make adjustments according to your local demographic.
Analyze your advertising.
After launching a campaign, it's important to look at what worked and what didn't. Studying the analytics of your advertising will help you improve your mobile marketing strategies.
Mobile-Friendly SMS and MMS Marketing Messages
Some of the most direct approaches to reaching potential customers is through SMS marketing and MMS marketing. SMS and MMS stand for "Short Message Service" and "Multimedia Messaging Service" respectively.
SMS marketing provides a quick way to send discount codes or reminders of upcoming sales if they are text only.
MMS marketing, however, is used to send pictures or videos. MMS messages provide a powerful way to get your marketing content seen.
Facebook and Instagram Ads
Facebook and Instagram are powerhouses in the world of online marketing. These two social media platforms make it easy for companies to manage their ad campaigns and even easier for users to view products.
Although both are effective, they each have their advantages to consider.
Facebook Ads
Facebook offers a couple of advantages over Instagram when it comes to social media ads.
Managing every aspect of your marketing campaign is easier as Facebook provides more detailed options and results.
Additionally, Facebook reaches a wider demographic than Instagram.
Instagram Ads
While Facebook offers more ad control and a wider demographic of users, Instagram has its advantages.
The ease of entry is a big one. If your company is new to the world of online advertising, Instagram makes it easy to showcase your products and gain traction.
A younger demographic can also be an advantage depending on your products and services. If your target audience is between the ages of 13 and 49, Instagram is a route to consider.
Mobile-Friendly Applications
Mobile apps are another way to expand a business's mobile marketing toolbox.
The most crucial aspect of mobile-friendly applications is user experience (UX). A mobile app needs to be more than easy to use. It should provide customers with a comprehensive browsing and purchasing experience that's both easy to navigate and personalized to the user. Effective UX is key to increasing conversion rates.
Before developing a mobile app, companies need to consider if an app is the best option for their mobile marketing strategy. Developing a mobile app can be time-consuming and costly to maintain. Worst of all, mobile users tend to neglect apps they don't need regularly.
If your business is dependent on repeat customers, then a mobile app might be the way to go. An app would allow you to utilize reward programs and keep customers up to date with promotions.
Alternatively, if your business is less dependent on repeat customers, a mobile app might not provide the return on investment you were anticipating.
Is Mobile Marketing Effective?
YES, and here's why: almost everyone owns a mobile device.
According to the Pew Research Center, 96% of Americans own a cellphone. 81% of Americans own a smartphone.
Beyond ownership, the diversity of mobile device ownership is equally extensive. The Pew Research Center's breaks down mobile device ownership data as of 2019:
Marketing to mobile users is an effective tactic because everyone – as in everyone – owns a mobile device. Regardless of discrepancies in age, race, location, income, or even political views, the majority of Americans have one thing in common: a mobile device.
Marketing is the act of promoting products and services to consumers. What better way to reach potential customers than putting your products in the palm of their hands?
Why is Mobile Marketing so Powerful Today?
M-commerce is one of the reasons mobile marketing is so powerful today.
M-commerce is the term used to describe shopping on mobile devices. This new way of consumerism has increased over the past several years and will likely surpass e-commerce sales in the near future.
"M-commerce has the potential to become a major channel for shopping and to change consumer shopping habits." – Andrew Meola, Business Insider
With mobile devices providing consumers with a clear path to purchase, it's no surprise m-commerce is on the rise.
Does Mobile Marketing Offer a Good Return on Investment (ROI)?
If strategically used, the sky is the limit when it comes to mobile marketing's potential return on investment.
It has been well established that mobile use and m-commerce are on the rise.
To maximize your return on investment, the key is to implement the correct marketing approach for your specific business. Consider a few things:
Who is your target audience/customers?
Does your existing customer base frequently shop online?
What types of products/services does your business offer?
Would your business benefit from a customer loyalty program?
Mobile Marketing Strategy and Best Practices
Make sure your online presence is mobile-friendly.
You need a website that works well on mobile devices and makes the purchasing process easy for customers.
Make a good first impression.
The world of digital marketing is cutthroat as there is no shortage of advertising. First impressions are everything. Make sure your content is well-thought-out and carefully designed for your target audience.
K.I.S.S.
Keep It Short & Simple. Your content should be clear, effective, and able to consume quickly. Too much content will not leave a lasting impact.
Offer incentives, but be clear about caveats.
Incentives are a great way to avoid annoying your customer with your mobile marketing content. Who doesn't love a discount code sent directly to them? That being said, don't mislead your potential customers with fine print. Be clear and upfront about any stipulations.
KPIs
It's a good rule of thumb to test all marketing efforts to optimize performance. Key Performance Indicators, or KPIs, help you to strategically improve your marketing campaign.
Common KPIs include:
Acquisition: How many users are signing up for your e-mail and/or text messaging lists?
Return on Ad Spend (ROAS): What is your return on investment (ROI)?
Lifetime Value (LTV): How much of a profit are you making? How many customers are you retaining?
Cohesive Experience
A cohesive experience is the foundation on which the path to purchase is laid when targeting mobile users.
Content should be mobile-friendly and provide direct links to mobile-friendly websites. Content that leads to distorted or difficult to use sites will impede the purchasing process.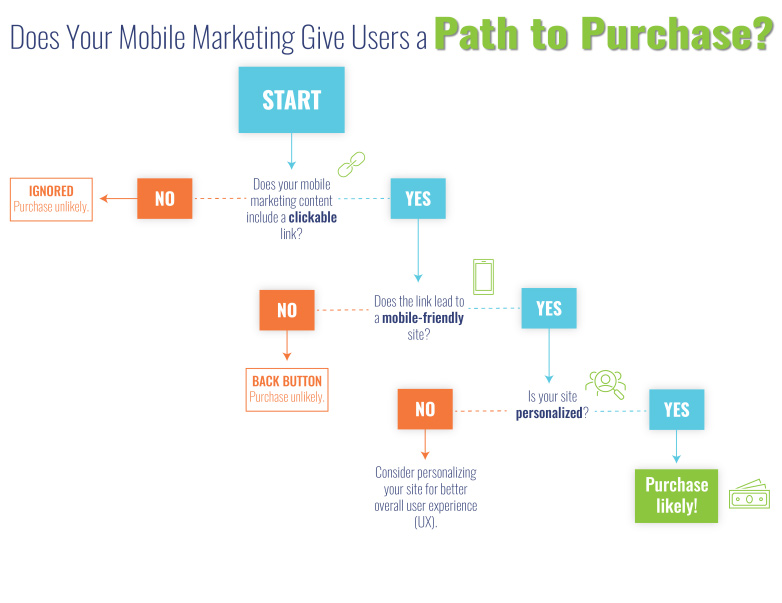 Buyer Personas
Buyer personas are another best practice when it comes to engaging the mobile user. A buyer persona is a semi-fictional representation of your customer.
These profiles will help you to better understand your target audience and fine-tune your mobile marketing strategies.
What are the Disadvantages of Mobile Marketing?
While mobile is the next great marketing frontier, there are a few downsides to consider.
One disadvantage of mobile marketing is the potential for a bad user experience.
Mobile marketing techniques require a delicate balance of getting eyes on your products without annoying the potential customer. It's easy to get on a customer's bad side with text messages, push notifications, email campaigns, and more all going to one small device.
Another disadvantage is the variances between mobile devices and data plans.
As pointed out earlier, mobile devices are widely used. However, the types of devices, operating systems, and their coinciding data plans leave room for inconsistencies. Compensating for these discrepancies can prove to be both difficult and time-consuming.
Will Mobile Marketing Work for you?
If you own a business in the 21st century, mobile marketing will work for you.
The real question is: What form of mobile marketing will work best for your business?
To answer that question you need to do your research. Who is your target audience? What are the pros and cons? What is your marketing budget?
Common Examples of Mobile Marketing
SMS Messaging Example
E-mail Example
Pay-Per-Click (PPC) Example
Facebook Ad Example
Instagram Ad Example
The Takeaway
Mobile marketing is essential for providing mobile users with a path to purchase. Digital ads need to be a priority to businesses who want to successfully engage potential customers in the competitive world of marketing. The key to getting your products purchased: personalize content and utilize mediums such as social media, Google searches, e-mail, and text messages.
If you're interested in finding a way to maximize your mobile marketing investment, Boosted Lab is here to help.